Ambika – a new DIY polyphonic synthesizer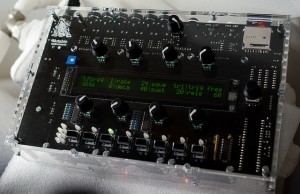 Mutable Instruments has announced the Ambika – a new DIY polyphonic synthesizer.
Translucent, polyphonic, DIY and even a bit sexy – the Ambika will allow for six voices. It can be configured so that all of the voices have the same synth design or with unique synth designs on a per-channel basis.
"It's huge," they note, "And it draws a lot of power!"
Mutable Instruments Ambika Features:
Up to 6 voices, each with an individual output — in addition to a global mix output.
MIDI channels/patches/voices are distinct entities, allowing many different flexible configurations, from 6 independent monophonic parts each on a different MIDI channel, to 1 polysynth, with everything in-between (unison, keyboard split, layering, voice doubling).
Connectors for up to 6 voicecards. In true Mutable Instruments spirit, you can mix and match voicecards with different filters, and in the future with different synthesis engines.
Easy to use sound programming interface with a large 2×40 LCD display, 8 knobs, 8 switches and 15 bicolor LEDs. Each module of the synthesis engine has a page, each page has a direct access button.
Massive patch memory, easy backup/data exchange, fast firmware upgrades with the integrated SD card reader. And there might be other things you'll load from the SD card in the future…
Patch versioning and undo/compare/redo of editing operations.
Sequencer, arpeggiator and rhythmic chord generator available for each part. 2 step-sequences per part. Each part can be clocked at a different multiple of the MIDI clock.
And of course: DIY friendly, through-hole assembly.
Comments