Analogue Solutions Leipzig S listening test
Listening test for Leipzig-S; audio rate sequencing, waveform, lowpass filter, suboscillator, etc…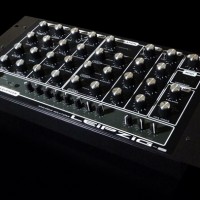 KEY FEATURES OF LEIPZIG-S
Pure analogue voice and modulation circuitry.
Fat Moog style filter.
2 VCOs with Glide and Sub-VCOs.
Osc Sync & Cross-Mod
Plenty of modulation routing possibilities.
We are a big fan of electronic percussion here, so Leipzig-S modulation choices provide for good drum possibilities
Analogue step sequencer – with plenty of clocking options.
Audio input so can be used as a sound processor.
Rugged steel/aluminium construction.
MIDI In for software sequencer control.
Evolving from its namesake Leipzig (rack-mounting) and Leipzig-k (keyboard-endowed) analogue monosynth predecessors, the rack-mountable/tabletop Leipzig-S literally goes several steps further by incorporating an in-built eight-step analogue sequencer that can be used to produce simple melodic lines as well as acting as a modulation source to affect the filter cutoff (or to create additional effects, depending on other control settings). VCO1, VCO2, and the VCF are all available as sequencer destinations; seemingly simple, yet favourably flexible, the step sequencer can be creatively controlled (clocked) by multiple sources — at audio frequencies (using VCO2 as a clock source), or using the output of the sequencer itself as an audio source to be 'played' via MIDI while the eight step controls then alter the 'waveform'/tonal content, for example, such are the adventurous advantages of packaging an analogue step sequencer with a true analogue monosynth!
The entire design is traditional early-Eighties analogue (voice and modulation) circuitry, comprised entirely of discrete components and op-amps (bar, of course, the digital sequencer controller and MIDI-CV interfacing); since the Leipzig-S is a strictly no-memory affair, all controls are not quantised, resulting in an authentically vintage sound, replete with musically desirable quirks and subtle artefacts (much in the same way that, say, a valve amp or vinyl record adds sonic character) — unlike some other modern 'analogue' synths that arguably sound almost as perfect as DSP analogue modelling.
With electronic percussion having influenced the choice of routings, the Leipzig-S boasts a huge range of modulation possibilities to facilitate creating the widest possible range of sounds, including deep basses, sound effects, analogue loops, and (obviously) electronic drum sounds.
Comments