Back to the 80's for some computer action
The Apple II became one of the most recognizable and successful computers during the 1980s and early 1990s. It was aggressively marketed through volume discounts and manufacturing arrangements to educational institutions which made it the first computer in widespread use in American secondary schools. The effort to develop educational and business software for the Apple II, including the 1979 release of the popular VisiCalc spreadsheet, made the computer especially popular with business users and families. Here's a capture in 1982 demonstrating a sound card for the Apple II that makes "three distinct tones" which were in fact square waves.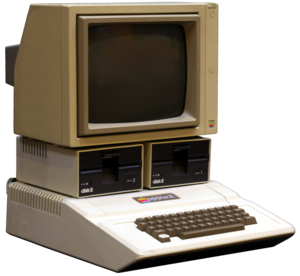 In this video:
If i remember correctly you could peek & poke machine code values to change the duty cycle of the waveform, but mostly you just bleeped away in square.
The clip is from the ABC Children's Education show "Computers in Action" which was showing kids the amazing things computers could do at the time. I think the segment after mine was about traffic lights.
Comments