CAUSTIC Music Rack has been released for the Android platform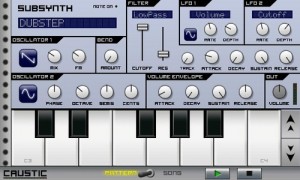 CAUSTIC lets you create powerful electronic music on the go. This app is packed with 8 machines including: Virtual analog subsynth. 2x PCM synths (23 demo samples included) with Song sequencer. 2x 303-like BassLine synths. Sampling drum machine (9 demo kits included). Mixer desk with Delay/Reverb and 4 insert effects.
All files are stored on the SDCard, and users can supply their own WAV files for use in the PCMSynths (drum machine setup coming soon)
Minimum recommended device specs are:
– 800 MHz ARMv7 processor
– 800 x 480 resolution screen
– Headphones or external speakers
This is the demo version of CAUSTIC Music Rack, because 15 minutes isn't enough time to get familiar with everything this app can do. There is no time limit in this version but save/load/export are disabled. The app will automatically save your current song between sessions.
A full-featured paid version should be out in the next few weeks.
More info from the developer's website:
"The first version of is finally out on the market and I'm very excited. I've been working on this since Christmas, and am anxious to see what people think.When I got my Nexus One, I was disappointed in the lack of audio apps on the market. Since then, a few good ones have come out, but I really wanted a virtual rack full of machines to tinker around with and make some grooves. The goal was to get a similar experience to some of my favorite software: Reason and ReBirth by Propellerhead.

It struck me as impossible that ReBirth ran on a Pentium 90 MHz back in the day, yet somehow there was no way to get even close to that on Android because of various API issues. Well there certainly are some shortcomings in regard to audio on Android, but working around them and optimizing as much as possible, CAUSTIC was born.

I'm hoping to get how-to videos for each of the machines soon, as well as a F.A.Q. section as I'm sure they'll be lots of common questions about this app, but please be patient. I've got a full-time job and only get a few hours a day to work on this.

If you're reading this and want to help out, there's lots to do and my time is limited so I'm still looking for:

+ A good demo song to ship with; contact me through the market's developer email if you'd like to help.

+ More subsynth presets; if you've got cool presets you've created, send them to me and I'll include them in future contents packs.

+ PCMSynth samples; if you've got any samples ( tuned to C ) that are of your creation (no copyrighted material), send me a link and I'll look at including them in future content packs as well.

+ The other big task I've got on my list is the paid version with Save/Load and file export. I've got a basic WAV exporter working, it just needs more testing. Then I have to integrate Android licencing scheme and a few other little things. Hopefully the paid version will be out in the next few weeks.

I hope to release updates frequently with bugfixes and add-ons, and I plan to release free content packs with synth/drum presets and samples too. If you've got a feature you think would be cool, write me, I'm open to suggestions.

Thanks for reading, be patient with this first release and send in your feedback."
You can download CAUSTIC Music Rack for free now from Android Market at https://market.android.com/d…
Comments