Checking out StudioLogic's Sledge Polysynth
Here's a new video featuring the Sledge at MusikMesse:
For many synthesizer enthusiasts, it is the particular interaction of the sound engine and user interface that makes a great instrument. A quick look at Sledge shows you the generous set of controls available to interact directly with the sound engine.  When you touch the knobs and switches of the front panel, you will instantly be aware of the meticulous attention to detail our engineers have refined, during many decades building the best electronic keyboards.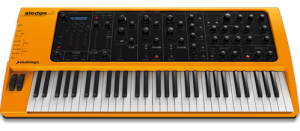 You will experience the logical set-up of the synthesizer modules, mirroring the signal flow of a classic analogue synthesizer.  But what really distinguishes any synthesizer is its sound. Fortunately, our friends at Waldorf Music have happily shared their experience and know-how on this crucial part of the Sledge Synthesizer.
Read more about the new Sledge Synthesizer 
Comments