Close up on the Grp A4 Synthesizer
All sounds in this short demotrack including drums come from the beautiful Grp A4 synthesizer from Italy. Multitracked in Cubase, some delay, reverb and compression added.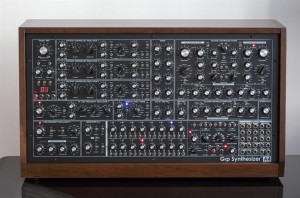 The Grp Synthesizer was developed to offer the enthusiasts of analogical sound a more affordable synth in terms of price and dimension in comparison with the precursor model A8, without renouncing to the quality and performance that characterize our synths. Being featured with the same step sequencer used for the Grp A8, this synth is able to guarantee nearly infinite sound combinations due to the new characteristics which have been implemented in the instrument, with the possibility to filter out external signals and to manage all the important parameters of the analogical generation chain.
The A4 has been derived from an audio section of the Grp A8 (of which it takes over the structure) and it results more versatile and eclectic passing from smooth and extreme clean sonorities to harder sounds thanks to the two distortion installed in the synth (one for each filter) and due to the possibility to make interact synth, ring modulator, external signals and step sequencer in only on mechanism with an immense sonority power. Furthermore, the Loop EG function enables the conditioned and unconditioned repetition of the envelope, in order to reach particular and temporal articulated sonorities.
Comments