Dave Smith – Tempest – Live demo tutorial of features and sounds
And here are the background data:
I've had the Tempest for a few days and decided to share some of the things the Tempest can do live. All of the sounds in this video are from the Tempest. Nothing has been mixed (sorry I just threw this together on a whim). There are no external Effects or synths used. This is quickly turning into on of the best pieces of gear I've ever owned and the OS is still in Beta. OS 1.1.2
FX used
Roll
Delay
LP Filter knobs
LP Filter on the touch pad
ADSR to shorten the main synth sound
Reverse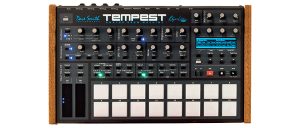 Tempest is a professional drum machine that generates its sounds using six powerful analog synthesis voices, and uses an innovative, performance-oriented operating system that permits an extraordinary level of control to create, edit, arrange, and manipulate beats in real time without ever stopping.
The performance-oriented operating system, ninety panel controls, and bright 256 x 64 dot OLED display work together to provide a tightly integrated, non-stop workflow.
Record a drumbeat in real-time
Switch to another drumbeat and use the lit pads to record it using step programming
Switch to another drumbeat and record tuned keyboard parts
Use the two touch controllers to to record real-time note sound animations or perform beat-wide sound changes
Use the generous sound controls to edit any of the drum sounds
Tweak the analog effects or drum mix
Arrange beats in real time and record the live arrangement into a song
And all of the above without ever stopping play
Each of the six analog voices has two analog oscillators plus two digital oscillators (with a large bank of included samples), the classic Curtis analog lowpass filter with audio-rate modulation, an additional highpass filter, analog VCA with feedback, five envelopes, two LFOs, an extraordinary variety of analog modulation routings, and stunning sonic quality, warmth, and punch. Although optimized for drum sounds, it excels at tuned sounds as well, and even doubles as a six-voice analog keyboard synth.1
Sixteen pressure- and velocity-sensitive lit pads are arranged in a 2 x 8 configuration, providing intuitive access to all your fingers and the ideal compromise between the popular 4 x 4 pad arrangement (popular for real-time programming ) and 1 x 16 arrangement (popular for step programming) because Tempest does both. The pads can be used to play thirty-two drum sounds2 (two banks), mute/unmute the thirty-two sounds on playback, play and arrange sixteen beats in real time, play one sound at sixteen tunings (in a variety of scales) or sixteen velocities, or as sixteen time steps for step programming. The ROLL button permits creating drum rolls or repeated groove patterns by varying pad pressure as the beat records, and doubles as a momentary "stutter" effect when the pads are assigned to play beats.
Comments