Details on the new remix album from MESH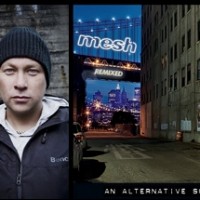 Dependent has announced the track listing for the Mesh remix album "An Alternative Solution" which holds remakes of songs from the "A Perfect Solution" studio album. All 11 tracks from "A Perfect Solution" have been given the remix treatment here. Note that the remix album retains the original's track order as well. Included are remixes by Iris, Portion Control, Zeromancer, Parralox, and Assemblage 23. It will be a rather long waiting until you'll be able holding "An Alternative Solution" in your hands as it will be released on May 20th only.
Fans and collectors should look out for the limited first pressing containing a bonus CD with additional remixes and rare tracks. We'll let you know once it's available for ordering.
Here is the full track listing of the limited first edition, containing the bonus CD:
disc 1
If We Stay Here (Zeromancer Remix)
Only Better (Mechanical Cabaret Bi-Polar Mix)
Everything I Made (Robin Gigla Remix)
Is It So Hard? (Remixed by Iris feat. Julia Beyer)
Hold It Together (Daniel Myer Renegade of Noise RMX)
It's Gone (SMP Deathproof Mix)
How Long (Assemblage 23 Remix)
Who Says? (Inuition's Alternate Solution Mix)
Hopes, Dreams (Parralox Remix)
Want You (Restraining Order Mix by Informatik)
The Bitter End (Portion Control 'Grind' 70BPM Version)
disc 2
Only Better (Alien6 Remix)
Everything I Made (Kloq Remix)
Save Everyone
Hold & Restrain (Olafs Vinyl Version)
How Long (Mesh Full Duration Pump Mix)
How Long (samEDIT Perpetual Mix)
The Bitter End (Celluloide Version Hexagonale)
Via SL
Comments