DrumOn – New pro mobile drum machine for iOS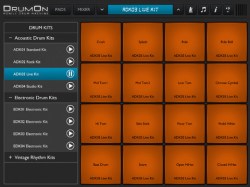 Tapgic Technology Limited has introduced DrumOn – described as 'a professional mobile Drum Machine'.
DrumOn is intended to turn your iPad into an advanced drum pad for live performance – like a hardware drum pad.
Main Features:
Over 16bit/44.1kHz to 24bit/48kHz PCM quality sound bank with maximum polyphony of 32-notes.
Each Drum Kit has a individual rhythm Demo playing in loop, you can change the drum kit when you play.
Realistic Choke Performance of Pedal Hi-Hat, Closed Hi-Hat and Open Hi-Hat.
15 grades of Touch-Velocity let you play like a real instrument, the harder you play, the more dynamics and volume you'll get.
Available to change the drum pad numbers from 8 to 12 or 16 to get bigger area or more sounds as you need.
Available to open or close the pad names.
Exclusive Function Side-Bars are available to open or close by the top-bar buttons or two-fingers touch gesture.
Full control of individual pad's Level and Pan, each drum kit has a built-in setting and you can change it.
Full-featured built-in metronome which is absolutely accurate with the industrial quartz precision.
High quality effect module for the global output including OVERDRIVE, REVERB, DELAY (iOS6+ ) is fully user-defined. You can also the change the effects order to get different sound effect.
Music Player lets you import your music tracks to Jam with, you can change the Volume, Loop and Speed of the music tracks.
Drum Kits in Version 1.0 :
ADK01 Standard Kit
ADK02 Rock Kit
ADK03 Live Kit
ADK04 Studio Kit
EDK01 Electronic Kit
EDK02 Electronic Kit
EDK03 Electronic Kit
EDK04 Electronic Kit
VRK01 Vintage Kit
VRK02 Vintage Kit
VRK03 Vintage Kit
VRK04 Vintage Kit
VRK05 TR606
VRK06 TR808
Comments