Duplex Controllerism Explained
Here is a short demonstration on how to use your Novation Launchpad with Renoise 2.6, with a tool called Duplex.
You can learn more about Renoise at http://www.renoise.com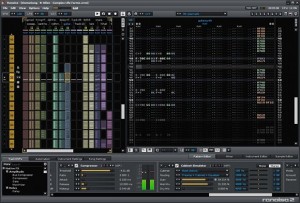 New in this release of Renoise:
Lua scripting. Customize the app using an elegant, clean, friendly language.
OSC, MIDI support. Integrated control with Duplex (MIDI/OSC), native Open Sound Control support.
Extensive hardware support. Maybe you don't want to write a line of code, ever. You can let someone else do it for you, and reap the rewards. Already, Renoise has native, fully-integrated support for the AlphaTrack, BCF-2000, BCR-2000, KONTROL49, FaderPort, microKONTROL, nanoKONTROL, Launchpad, Remote SL-MKII, Nocturn, Monome, Ohm64, iPad via TouchOSC… all thanks to community support for the new scripting engine.
Sample autoseek. Absolutely essential to making audio behave in the way it does in linear arrangement tools, the sample will play back from the position in the timeline, rather than from the beginning each time you hit play. (Seems obvious, but it's part of making Renoise bridge tracker-style apps and more conventional, linear ones.)
Better performance, compatibility. Tweaked performance on Linux and Mac, expanded file format compatibility, plus 64-bit Linux, DSSI Linux support. Renoise is a reason to run Linux, and Linux a reason to run Renoise, if you hadn't guessed that yet. No, seriously, you'll enjoy it.
Using two grid controllers with Renoise, arranging patterns on the fly.
Special thanks to daxton for writing the step sequencer

Comments