Electronic music history: BBC Radiophonic Workshop music composer Delia Derbyshire
The remarkable story of pioneering BBC Radiophonic Workshop music composer Delia Derbyshire. Starring Sophie Thompson.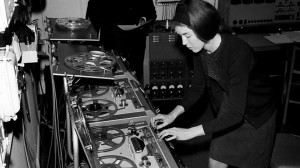 In the 1960s, Delia Derbyshire was one of the pioneering electronic musicians of the iconic BBC Radiophonic Workshop. She's best known for her absolutely exquisite 1963 electronic version of Ron Grainer's Doctor Who theme, which you can hear at left. Her masterful musical experimentation continued with electronic scores for the Royal Shakespeare Company, the films Work Is A Four-Letter Word, The Legend of Hell House, and, just before her 2001 death, a project with Spacemen 3's Peter "Sonic Boom" Kember. BBC Radio 4 produced a dramatization of her life story, starring Sophie Thompson, with music by another Radiophonic Workshop veteran, Elizabeth Parker.
From "Doctor Who – The Beginning Collection (1963)" Disc 1
The original full-length theme music, with original 1963 title sequence visual elements.
Composed by Ron Grainer, realized by Delia Derbyshire of the BBC Radiophonic Workshop.
Comments