Exploring the Casio PT-82
Here's a bit of a background on the PT-82. This keyboard from 1986 has many similarities with the Casio VL-Tone 1 and PT-1, but includes a "melody guide" key lighting feature for music teaching (not the keys itself light up but a row of small LEDs above them) and a ROM- Pack music cartridge slot. Unfortunately this instrument is missing the great built-in synthesizer, sequencer and 3 octave switch of the VL-Tone.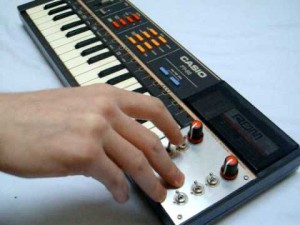 Although the music playback from the ROM- Pack includes wonderful polyphonic accompaniments, the player can play own musics only monophonic with thin and dull sounding blip rhythms. A bit unusual is that this white keyboard has brightly coloured orange and red buttons and red lines while Casio normally preferred pastel colours. Also a red case version of the PT-82 was made. In 1987 it was re-released in grey as Casio PT-87.
The PT-82 was likely intended as a technically simplified successor of the Casio PT-80. The speaker has an unpleasant, loud mid- range resonance. The main voice sounds are the same like with the PT-80, but tend to sound a little thinner and harsher. These sounds resemble much a Casio VL-Tone 1; unfortunately they don't include the famous "fantasy" sound of the latter.
In this video:
This was my first ever instrument when i was 4 years old. I was wating too long to make something with this! So this is a music track from this and only with this. It has an exeptional meaning for me…
Reverb, delay,some chorus and an octaver for the organ bass. All sounds are presets of the PT-82. No other instrument is responsible for this track.
Comments