German bodypop act And One calls it quits – end of the road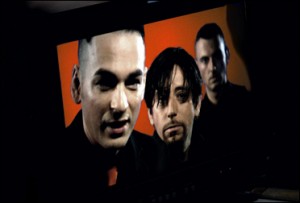 According to various sources and frequent rumors And One has called it quits. Label changes, fights between past and present band members finally made Steve take the decision to through ion the towel. Here's a text from Side-Line exploring the situation further – too bad for a band that had so many good EBM / synth pop tracks in their portfolio:
Whereas the band insinuated earlier this week that they would sign to Out Of Line, it now seems that And One will simply stop all activity and cease to exist. The news is also confirmed by other scene magazines, such as Sonic Seducer which reports "Schluss, aus, vorbei: And One lösen sich auf".

And since Steve thinks we can't read German, here are his words: "Für And One besteht kein Bedarf mehr, weder bei einer neuen Plattenfirma zu unterschreiben, noch für And One ein eigenes Label zu gründen. Die letzten Werke lassen wir einfach nur pressen und verkaufen sie selber auf Konzerten und online oder so. Mal sehn. Scheiß auf Charts oder Konventionen. And One ist durch mit der Branche." Even our colleagues at Sonic Secucer interpretate this as the end.

The end of the band was written in the stars after endless battles with labels and (ex-members), ego-tripping ramblings on the bands blog attacking other artists, doll fights, plus the odd cat fight between frontman Steve Naghavi and Side-Line.

And One was a German New Wave, synthpop and EBM band founded by Steve Naghavi and Chris Ruiz in 1989. The band's first release was "Metal Hammer". On June 4, 2011 Chris Ruiz and Gio van Oli announced they were leaving And One and formed a new band entitled PAKT. It got the PAKT members lots of public shouting and denigrating comments from Steve Naghavi who increasingly seemed to have lost the pedals. The band's last album was 2012's "S.T.O.P."
A couple of their most recent releases can be found below:
Stay tuned for more info…..
Comments