Gestrument – the revolutionary gesture based instrument
Gestrument – the revolutionary gesture instrument! Swipe your finger to play – it has never been easier to make music!
LAUNCH OFFER! Gestrument is offered at this discounted price until January 10:th 2013
See videos and read more about Gestrument on www.gestrument.com
Developed by Jesper Nordin (www.jespernordin.com) and Jonatan Liljedahl (www.kymatica.com)
• Play and compose music with the swipe of your finger
• An intuitive tool for composers in all genres
• Generate music within defined scales and rhythms
• The ultimate tool for making truly new music in any genre
• Improvise freely within a fully controlled musical framework
• Use the internal GM sound bank or your favorite MIDI synthesizer
• Use Gestrument to control other iOS apps or external MIDI programs through a MIDI interface or Network MIDI
• Create and save your own presets and share with your friends or download new presets from www.gestrument.com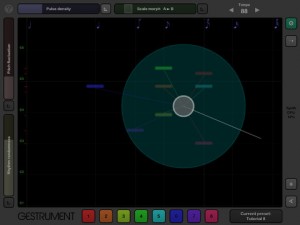 Improvise or compose within the scales and rhythms you choose. Use parameters like pulse density, scale morphing, rhythm randomness or pitch fluctuation to find new paths for your musical expression and creativity. Use the tutorials or define your own settings to fit the musical style you want to play and compose in. Play on up to eight instruments at once – all with different individual settings.
Gestrument works equally well for rhythmic music or sweeping soundscapes, for solo melodies or chord blocks, for long lines or short staccatos. It can help you make music in whichever genre you can imagine.
Gestrument works directly with its built in sounds and is therefore perfect for the amateur or beginner who wants to make music in an intuitive way. But it is first and foremost built for professional musicians and composers who can work with the settings to build advanced theoretical frameworks that they can later improvise or compose within.
Comments