Guide To Understanding Electronic Music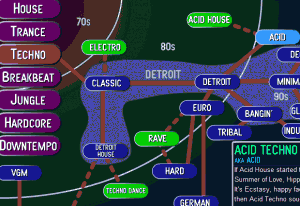 To get the answers to these questions and to learn more about electronic music all you have to do is pay a visit to Ishkur's Guide to Electronic Music.
Ishkur's Guide to Electronic Music is a free to use website. Basically it is exactly what its name suggests: a guide that will help you understand electronic music better. On the site's homepage you will find a tutorial that will detail the history of electronic music and the equipment used to create the music. Apart from that tutorial you also have various subgenres of electronic music listed on the left pane of the site. Click on any subgenre and its music samples will be presented on the right.
Features:
Learn more about electronic music online.
Interactive guide to electronic music.
Details the subgenres of electronic music.
Lets you listen to many popular electronic music songs.
Songs are categorized decade-wise.
Visit: techno.org/electronic-music-guide
Comments