Interview: Five questions to Vince Clarke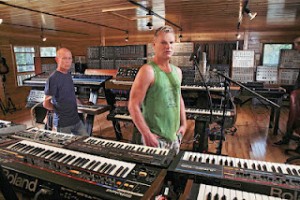 Astronata Pinguim has released a short interview, based on five questions, with synth maestro Vince Clarke:
ASTRONAUTA – Vince, I watched a video on youtube in which the interviewer asked you if you're a "synthesizers hunter" and you told him that you're not anymore but you was one in the past. When was your most obsessed period in the hunt for analog equipment? Is there any equipment of your dreams that you do not have yet? And what are your preferred instruments and/or the ones you use most nowadays?

VINCE – I think I seriously started collecting synths in the early 90's. And then, having run out of space, I stopped. I realized, the only keyboards worth owning were the one's that would be useful to my music making process, and that is still true today. I try to incorporate as many different synths as possible into my music, rather than favor one particular keyboard over another.

ASTRONAUTA – In the first albums recorded by you, especially on Depeche Mode's "Speak & Spell" you used only analog synthesizers (not ONLY by your choice but also because the digital technology was just emerging in the music world). How was the recording process on that time, how did you synchonized your equipment, especially those that were made by different manufacturers?

VINCE – The early Depeche stuff was recorded onto a 16 track Studer machine. Lot's of tracks had to be bounced together, decisions had to be made there and then. The engineer, Eric Radcliffe, devised a way of recording a rudimentary click track onto track 16 which enabled us to run an Arp sequencer in sync.

ASTRONAUTA – In some tours (especially on the Erasure's 1991/1992 tour, in which you had a "tank" with multiple keyboards inside), you traveled with many analog keyboards. How was the maintenance of this analog equipment, did you traveled with an electronic technician specialized in analog instruments to repair your synths on the road or did you (or do you) know how to repair your own instruments?

VINCE – All of the gear was serviced prior to the tour and required very little maintenance over the course of the tour..(just some TLC). My own knowledge of synth repair was, and still is limited. In the case of a breakdown we would usually find an engineer in whatever city we were performing.

ASTRONAUTA – How is your method of composition, do you write a song on the guitar first and then go to synthesizers or do you already compose direct on the analog synths, sequencers and drum machines?

VINCE – The songs are composed on either guitar or piano. That way, we can concentrate purely on the melody and lyrics, and not get distracted by the limitless world of sound sculpture.

ASTRONAUTA – I suppose that you have a lot of solo stuff, demos of several songs that you wrote for your bands and projects. If you have, do you want to release this material someday? And how about a Vince Clarke solo album, can we expect that you release a complete solo album someday?

VINCE – I doubt I'll ever release a solo record. I really get a kick out of 'collaboration'.
Comments