Interview with electronic pop artist Andreas Tilliander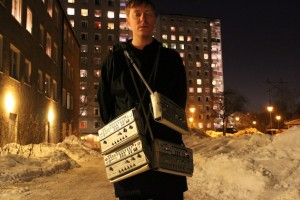 Attack Magazine has a nice interview out with Swedish electronic pop artist and producer Andreas Tilliander
Andreas Tilliander's latest album sees him focus his attentions on Roland's classic x0x series. We spoke to him to find out how the project came about and discover how he avoids techno cliches.
Attack: Tell us about the roots of the project. Did you decide in advance to make an album based entirely on the classic Roland gear or was it an organic process?
Andreas Tilliander: The funny thing is that I never had an album or concept in mind. I recorded the first couple of tracks just as a joke for my friends. People kept telling me I was crazy collecting all those Roland boxes. I had the entire series, but I also had several of some machines, like the 303 especially.
I wanted to show them that it's possible to use several 303s in one track. You just have to have some imagination and good will. I filmed it just to show them that I didn't overdub it or anything like that.
Read the full interview here >>
Comments