Interview with Ladytron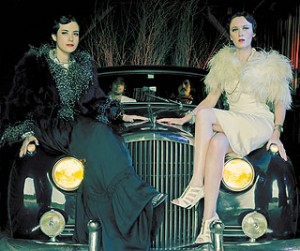 Here's a short interview with the electronic act Ladytron by EM: It makes absolute sense that Daniel Hunt's "favorite record ever" is My Bloody Valentine's 1991 album Loveless. Aside from the obvious fact that Hunt's band is also a quartet comprised of two men and two women, Ladytron is like MBV for the electronic set: dense layers of synths rather than a shoegaze-y wall of guitars.
"I grew up listening to music that I could not fully understand," Hunt says. "I like this kind of swell where you hear certain things and you're not sure what they are, and you're not sure what is connected to what."
That isn't to say that Ladytron is creating an amorphous sonic mess in the studio. Ten years after releasing their debut album, 604, Ladytron has learned a thing or two about maximizing space in the mix. With the band's fifth full-length record, Gravity the Seducer, Hunt says they're more cognizant of when to say when.
"I think we're instinctively preempting those problems in the mix by not throwing too many bass-y mono synths and layers down there," he says. "We're just a bit more aware of what's required than we used to be. With the first and second records, the mix engineer would be like, 'You know, you put seven basses on here.' And we'd go, 'Okay, well it's your job. You just make it work!' We're a bit more considerate now."
While Ladytron dove into recording their previous two albums immediately after months on the road—thus creating an album that would easily translate to the stage—the band took a different approach to Gravity the Seducer. "We probably had about a year off from the road in which to write and prepare and had a clearer idea of what we wanted," Hunt says. "It was refreshing to make a record without thinking about the accompanying tour. We didn't care about it, so I think the record sounds freer and more coherent as a result."
Comments