Introducing The One DJ software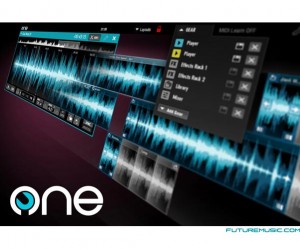 Audio Artery, aka EKS – the Finnish controller manufacturer, presents The One DJ software. The concern claims that The One is a new breed of DJ software that offers new level usability and features while staying close to the roots of DJing.
The One claims to allow "total customization of your working environment." Choose the features you need and arrange it exactly the way you like. Everything you see on screen can be freely moved and resized.
The advanced Timeline Edit mode turns player decks into audio edit stations, in which you can chop or combine tracks or even create complete DJ mixes while the track is still playing. Just drag tracks, audio clips and samples to the timeline from the browser. Snap to grid functionality makes synchronization of clips fast and easy. The audio engine guarantees no stalling even when seeking or scratching simultaneously at minimal latencies.
The One's modular audio routing system allows effects and mixers to be assigned to anywhere in the audio chain – meaning that effects can be placed between players and mixer, or used as master effects. The One is also designed to fully utilize the possibilities offered by DJ controllers via advanced midi mapping possibilities.
One Core edition featuring all the essential DJing elements is currently in beta testing stage and may be available this spring for the price of $59 / €49. A premium edition may be released later in 2012.
Via FM
Comments