KORG Mono/Poly and microKORG demos
KORG Mono/Poly (MP-4) Analog Synthesizer from the year 1981. It has 4 VCO's which can be shared in 4-voice Polyphonic mode, or linked in Unison for a versatile monophonic lead. Each VCO has its own level, tune, and waveform type control. Waveforms include triangle, sawtooth, variable pulse wave. It has a great VCF filter section as well as 2 envelope generators (one for the oscillators and one for the filter). There are also 2 individual LFO's which can be used to modulate the Pulse Width, envelope and Arpeggiator independently.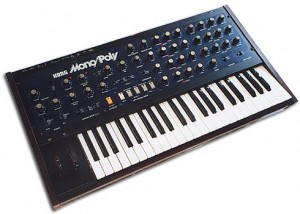 A very flexible and fun synth. Other cool tricks up its sleeve include chord memory and an effects mode in which oscillators have a variety of ways to be synced. The built-in arpeggiator and sequencer can run all 4 VCO's at a time or cycle through each voice per note! There's also portamento, CV/Gate, VCF and VCO mod inputs, white noise generator, and the pitch/mod wheels can be assigned to control LFO, pitch or the filter. Its sound quality is nice and very Korg.
recording: multi-track
fx: a little bit delay and reverb (Lexicon MPX)
more info: http://www.retrosound.de and
http://www.facebook.com/pages/RetroSound-Marko-Ettlich/265713782347
Googlish background (from japanese):
To enjoy the thrill of the synthesizer – synthesizer of compact size, if microKORG, create a sound that everyone from the expert of that day were placed in the hand. Overwhelming presence born from an attractive form is full of personality, not as long as the invitation to the world of creative professionals from beginner up to the high degree of completion of that one by one tone, and the height of the degrees of freedom of making sound you.
MicroKORG Since its launch, celebrated its 10th anniversary this year. Please confirm all means in this video, the charm of the microKORG continue to shine on stage in his At the same time now.
Product page
http://www.korg.co.jp/Product/Synthesizer/microKORG/
Comments