Mark Mosher improvisation on the Saurus virtual synth
My Colorado based electronic music friend Mark Mosher, sent me this nice improvisation that he has made on the Tone2 Saurus synth:
"It's gorgeous. Checkout this improv vid I made with Saurus. http://www.youtube.com/watch?v=-scMPERoIlQ"
About the video:
This is single patch improvisation recorded in one pass with no edits using Tone2's virtual Synthesizer Saurus. A single instance of Saurus is used with no other effects or editing other than what is built-into the synth. I'm starting with a factory patch in the "Lead" bank called "1970s Soloist H". I only touch the computer once during the performance in the middle to turn up the gain in the mod matrix so that LFO modulates pitch.
Prior to recording I mapped all sorts of parameters to my Novation Remote SL MK II Keyboard.
– XY map to Filter and Rez
– Bank 1 of the top 8 knobs are mapped to filter parameters and OSC Balance
– Bank 2 of top 8 knobs are mapped to effects parameters
– Bottom row 8 knobs are MIDI mapped to Oscillator noise type AM/FM, LFO Speed, Glide rate
– The first 4 sliders map to the volume ADSR
– The next 4 sliders map to filter ADSR
I used my projector to paint my wall with Saurus to the knob movement you see on the wall is in real-time and corresponds to my controller movement.
Mark Mosher
Electronic Music Artist, Boulder CO
Synthesist, Composer, Performer
http://www.MarkMosherMusic.com
From our original post on the Saurus: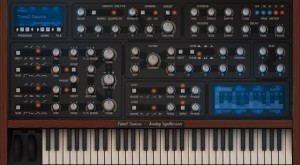 Tone2 has released a new software synthesizer for Mac & Windows, Saurus.
According to Tone2, Saurus is 'not just another synthesizer with character, but one that truly represents the analog sound.'
Here's what they have to say about it:
We carefully measured and modeled the circuits of many classic performance synthesizers, including even single capacitors and resistors to provide an extremely accurate analog model, faithfully capturing the spirit and character of these old machines. All without placing heavy demands on your CPU or budget.
Highlights:
True Analog Modelling Technology
High-end sound quality
Low CPU and high reliability
Easy-to-use interface
'Unique sounds which no other synthesizer can create'
Huge sonic range
Flexibility, expandability
Ships with 563 presets from 21 sound designers
Features:
Covers all important aspects of traditional analog synths
Mono, Legato & Polyphonic modes employing analog voice management
Two Syncable Oscillators and two Sub Oscillators
Not just standard waveforms but also a large number of exotic ones
Pulse Width Modulation and Oscillator Sync applicable to every waveform
Oscillator Drift, Phase and Noise Modulation controls
Noise FM, AM and Ring Modulation for Oscillators
Analog filter with self-oscillation, nonlinearity, 6 filter types, FM and feedback
LFOs and modulation capable of running at audio-rate
Arpeggiator with extensive configuration possibilities
Flexible Modulation Matrix with new features, including a filter
Programmable gate
4x Stereo Unison modes with spread and panning control
Analog modeled Distortion and Tube amp
Optional Psycho-Acoustic processing
High-end quality Effects
Tone2 Saurus is available now for US $119. See the Tone2 site for details, audio samples and a demo version.
Comments