Minimoog and Sequentix P3 sequencer improvisation
The P3 Sequencer is an 8 track, hardware MIDI sequencer, with a user interface comprised of knobs, keys and LEDs. A sixteen character by two line PLED display provides confirmation of pattern data and access to advanced features and configuration options.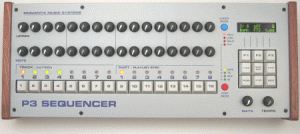 P3 allows real-time control of track mutes and simple pattern or pattern chain selection across multiple tracks, plus analogue-style editing of patterns. Each of its 384 patterns has independent values for note, velocity, tie, gate, length, gate delay, and a combination of up to four MIDI controllers, extra notes, or 'auxiliary events', per step.
P3's unique auxiliary events allow the creation of dynamically self-modifying patterns. They can grab values from other tracks, randomise steps, alter track and global settings, and much more. There are three modulation 'accumulators' per track, that can be used as LFOs, perform arpeggiation effects or enable complex pattern progressions.
Furthermore, you can assign front panel knobs to modify or mask these events in real-time, allowing you to create interactive patterns that change predictably as you adjust the knobs – varying in complexity, controlling levels of randomness, even 'morphing' from one pattern to another.
A Force-to-scale option provides preset and user-defined scales to keep everything in key (but defeat-able per pattern step if required), and a configurable 'change mode' allows patterns with different lengths and/or time-bases to free-run, or be synced to a global bar.

Comments