Moogus Operandi
Norlander explored the boundaries of the legendary Moog sound and captured the creative, analog-based vibe that is Moog.
One Moogus Operandi attendee summed it up when he was asked by another "What do you think of the music"? to which the response was simply "Goosebumps".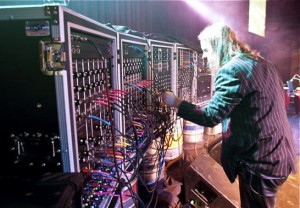 This image of Erik Norlander performing on his recently reconfigured Wall Of Doom modular synthesizer is taken from a collection of photos by Jon Leidel of the recent Moogus Operandi concert.
About the show that was held on April 19th
The Bob Moog Foundation is proud to announce its spring concert event Moogus Operandi,  honoring the pioneering work and legacy of synthesizer maverick Robert Moog, to be held on May 27, 2010 at the Orange Peel in Asheville, North Carolina. The event will be a celebration of the Moog legacy through music, art and mulitmedia entertainment. Tickets are $10 in advance and $12 at the door the night of the event.
Northern California based synthesizer virtuoso Erik Norlander (ASIA featuring John Payne, Rocket Scientists, Lana Lane) will headline the evening, performing songs from his new album, The Galactic Collective. Norlander, an accomplished rock, electronic and symphonic keyboardist known for his command of vintage and cutting edge synthesizer technology alike will bring the Moog legacy alive with his synth-heavy instrumentals and his "Wall of Doom" modular synthesizer (so named by his roadies). The Wall of Doom, a massive analog modular synthesizer with restored 1967 Moog modules at its heart, will grace the stage of the Orange Peel as the musical and historical representation of Bob Moog's legacy of pushing the boundaries of sonic reality. This marks Norlander's first performance in Western North Carolina.
Comments