New album from Caustic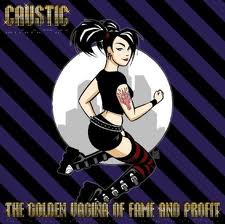 666 on the Crucifix
Carpe Rectum
Hiroshima Burn
Bulletproof Lolita
Orchid (Feat. Unwoman)
I Play Computer!
Darling Nicky's Gnarly Dicking
Generate Chaos (feat. Bitch Brigade)
Chum the Waters (feat. Ned Kirby of Stromkern)
Floor Whore Disko
White Knuckle Head Fuck (feat. Faderhead)
Matt Finale is soon back with his industrial noise project Caustic. For the new album "The Golden Vagina Of Fame And Profit", he has taken the help of Ned Kirby (known from Stromkern), Unwoman, Bitch Brigade and the Lord's Head.
Caustic saw the light through the debut EP was "I Am On Fire" in 2004 and the debut album came two years later when Matt by Static Sky Records released "Unicorns, Kittens and Shit". An album that reached number one on Metropolis Records mailorder list. The project was signed at the same time Ben Arp's Crunch Pod Records. Since 2006, Caustic released five albums, several singles and appeared on several well known compilations.
"The Golden Vagina Of Fame And Profit" is released April 12 via Metropolis Records.
Via ES
Comments