New C/A/T album – featuring Erica Dunham of Unter Null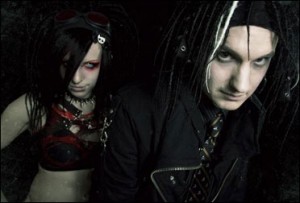 Fresh off the release of a career retrospective album, "Music To Piss You Off", Ben Arp has announced that he has begun work on a new C/A/T album – this time featuring a collaboration with Erica Dunham of Unter Null and Stray fame. Dunham recently rejoined the live line-up for C/A/T and will now also move into a production role in the studio.
Arp states this will be "my first collaborative effort since I began writing as C/A/T in 1998 and I am very excited about it". The new album, "The Scene Broke My Heart" will be the first new C/A/T full length album since 2008's "The Great Crisis" and will progress stylistically from 2009's "We Are Still Alive" EP release.
While no release date has been set for the new album, Arp says he "hopes to have this album released at some point in 2011" but goes on to say that C/A/T is "not bound by any label contracts so I plan to explore release options for this album".
C/A/T can be found online at: www.benarp.com , www.facebook.com/chaosandterrormusic and www.myspace.com/cat .
Comments