New flash-based modular synthesizer on the web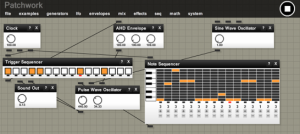 Developer Peter van der Noord has announced Patchwork, a free Flash-based modular synthesizer:
Patchwork is a Flash application for realtime modular sound synthesis. You can connect basic sound generation or modification modules to create either music, effects or utter noisy crap. Although at the moment it has an interface for creating a so-called patch, you will in the future be able to run your creations standalone, which means: in your own site or game.
Patchwork is inspired by applications like Max/MSP & Reaktor, but van der Noord says it's "a proof of concept."
Check it out at petervandernoord.nl
Comments