New hands-on demonstration of the Elektron Octatrack
Very good overview and demo of the Octatrack in action. The Octatrack is an 8 track performance sampler. Recording of sounds is a breeze thanks to the intuitive user interface, but the fun really starts once the samples are inside the machine. All audio content can be heavily processed and radically transformed. Loops do not have to be restricted by tempo or tone and can always stay in sync no matter if they are pitch shifted or if the tempo of the sequencer is changed. The inflexible nature of samples is finally a thing of the past.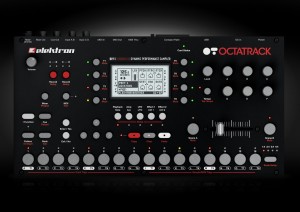 Flex machines offer the most extensive sound manipulation possibilities. A sample used within a Flex machine is loaded to the RAM memory of the Octatrack. From there it can be twisted, stretched, warbled and reassembled in multiple ways. Flex machines are unbeatable sound processors. Thru machines do not sample or play back sounds. Instead they let the Octatrack affect incoming audio with the dual FX blocks. They are very handy in live setups. Static machines are the perfect tool for handling extremely large samples. Samples assigned to Static machines are streamed from the Compact Flash card, thus their size can be in the order of gigabytes. Of course you can time stretch and pitch scale them as needed. Neighbour machines listen to the output of the preceding track. Multiple tracks with Neighbour machines can form extremely powerful effects chains. They can turn the Octatrack into a deluxe effects device.
In this video:
In this video Peter demonstrates some basic features of the Elektron Octatrack utilizing sounds from the Demo mode. More to come!
Specs:
8 track internal sequencer
64 step variable length Tracks
Unlimited Projects & Sets
8 instantly available Arrangements
16 instantly available Banks
16 instantly available Patterns & fader scenes per bank
4 parameter sets per Bank
2 effect blocks per track
24 bit stereo main, cue & headphones Outputs
>100 db signal to noise ratio
turbocharged miDI In, Out & THRU
Assignable infiniumR optical crossfader
Compact Flash card reader
480 mbps USB 2.0 connectivity
2 gB of high quality loops courtesy of Loopmasters come pre-installed on the bundled 4 gb Compact Flash card
Comments