New synthesizer from Yonac – Magellan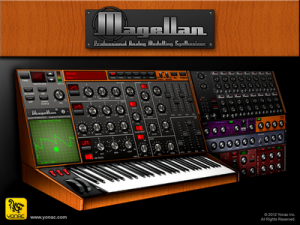 Magellan is a new synth with two independent polyphonic engines from Yonac, here's what they have to say about it:
We've been hard at work this year, and are very excited to present our new synthesizer. Magellan boldly travels waters where others have not dared to sail: Two independent polyphonic synth engines, with a total of 6 configurable oscillators. Polyphonic unison mode giving 24 simultaneous wave generators. Two filter banks per synth engine, each bank with its dedicated envelope and 11 unique filter types to choose from. FM synthesis module with blend and dedicated envelope. Dual LFOs in each synth with 4 freely assignable destinations each. Complete FX rack with modulation, time-delay, reverb and wave shaping effects. Dual traditional keyboards, as well as dual touch pad performance interfaces with individual parametric control over each voice. Built in arpeggiator for each synth engine, allowing you to run two different arps simultaneously, as well as a built in analog-inspired polyphonic step sequencer, and much more!
Listen to it here:
Comments