Nice Nord Modular demonstration
The G2 concept is based on a stand alone hardware keyboard with a freely configurable sound synthesis architecture and a software user interface (Editor) made for Mac OSX and PC. The sound engine in the G2 synthesizer runs on a group of digital signal processors (DSP's), together with high resolution AD and DA converters. A G2 sound is named a Patch and is made with virtual modules and cables. Simply 'drag & drop' modules and cables directly on the computer screen to create your own G2 sounds. A Patch can be modeled after an existing synth or it can be the synthesizer of your dreams.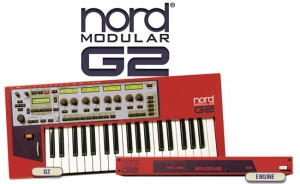 It doesn't matter whether you're an 80's retro fanatic or a producer of the most recent club music. With the G2 you can develop sounds similar to those created by old analog patch synthesizers or simulate acoustic instruments. You can also push yourself into a world of sounds that no single instrument has ever delivered before. While sample players remain cold as ice, the G2 modular architecture offers warmth and presence to your sound. Moreover, the average G2 patch uses about 3(!) kilobytes of memory, which makes sharing over the Internet a piece of cake. To get the feel of how it works, consider the way a guitarist connects his boxes and pedals. You build the sound piece by piece on the computer screen in a simple and intuitive way following your desired signal flow. Many of the G2 modules were also found in traditional analog synthesizers. Among the selection are well-known building blocks such as oscillators, filters, sequencers and envelope generators as well as more complex modules like vocoders, pitch tracker and the mystic Bode shifter. You can also build your own unique FX processors and run both internal and external signals through them. Future upgrades will be available for free from www.clavia.se. Combine all this editing power with a logical, user-friendly knob panel and you have the most flexible synthesizer ever seen – the Nord Modular G2!
The G2 has a three-octave keyboard with aftertouch, one modulation wheel, one Pitch Stick and eight rotary encoders, all easily assignable. Five separate LCD's give instant overview and control of your patches. Four high quality analog inputs, one with a built in microphone amplifier, provide the connections for external sources. Four LED's above the keys indicate the split-point configuration. The G2 is expandable with a voice expansion board.
Comments