Novation KS4 / KS5 synthesizer – Dreamy ambient chillout arpeggiator synth demo
Using an enhanced version of the K-Station sound engine, the KS4 (four octave keyboard) and the KS5 (five octaves) offer many additional features and benefits.
The keyboards have aftertouch, are semi-weighted, and each of the 33 knobs and sliders transmit MIDI. There is four part multi-timbral operation with four individual assignable outputs. A big plus is a separate effects section for each part – a unique Novation feature from the Supernova. Also featured are 4 Arpeggiators and 16 note polyphony with a 16 band Vocoder.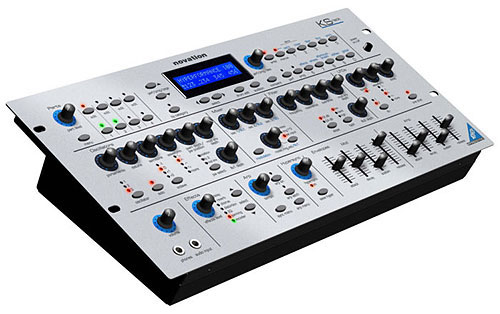 The KS-synths have 3 oscillators which provide sawtooth, triangle, sine, pulse width modulation and other waveforms. There's even a simple FM synth engine which can be dialed in for sharpening the sound. Oscillators may be set to Unison or Sync'd operation and a Noise source is also included in the waveform engine. There is a nice low-/band-/high-pass resonant filter with switchable 12 or 24dB/oct slopes and ADSR controls. A second ADSR envelope is available for the amp, as well as two LFOs with sample-and-hold and MIDI sync.
On-board effects include reverb and delay/chorus/flanger. Their send levels can be controlled by the Mod wheel which is a nice effect. A 12-band vocoder is also on-board for processing external mono sounds such as drum loops or vocals. Pads sound great when vocoded with external sounds. External sounds can also be used as an oscillator, run through the filters, envelopes, etc. with much better results than were possible on the original Bass Stations.
Ambient synth demo on Novation KS4 – KS5 synthesizer, playing chilllout arpeggiator music. The Novation KS4 / KS5 is a great synth keyboard for piano players to expand their musical horizons.

In this demo I'm utilizing 3 oscillators, arpeggiator, envelope, filter, resonance, LFO and reverb and delay effects.

Performed live, no external processing.
Comments