Oberheim DX modified for double sounds
This DX has a toggle switch for each voice, allowing choosing between two different samples for each. The regular 2764 EPROMs were replaced with 27128 types. Some relatively minor circuit board mods were required.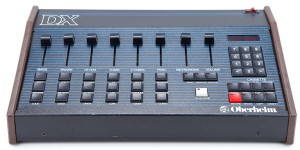 The DX was a lighter version of the classic DMX drum machine. In fact its look, features and programming method are basically the same as the DMX. The DX has individual tuning knobs for the drum tones and an external trigger input. Its sounds are sampled recordings of actual instruments. The DX only has 18 drum sounds and the DMX has 24. Both drum machines have a number of human like feel effects such as a great swing function, rolls, flams and other weird time signatures and grooves. Best of all it's easy to operate. There are also 6 individual outputs like the DMX for easing studio use.
Comments