OMD is on the move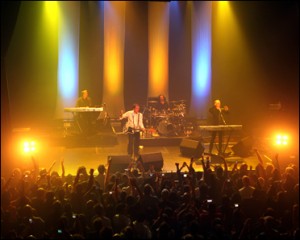 Orchestral Manoeuvres in the Dark have posted an update on the recording progress for their new upcoming studio album "English Electric".
Here's what singer Andy McCluskey had to say: "After a few weeks concentrating on rehearsals and concerts, we shall be focussing exclusively on spending September and October finishing English Electric. Many of the tracks are ready to mix and 3 need vocals finally recording."
OMD's previous (11th) studio album, "History of Modern", was released on 20 September 2010 selling well over 100,000 copies in Europe. McCluskey also appeared at a round table panel discussion on electronic music recently as part of EMI's 'Electrospective' campaign.
Mojo ask Daniel Miller, Andy McCluskey, Martyn Ware, Mark Jones, Trevor Jackson, Matthew Herbert and Bill Brewster their thoughts on electronic music.
Visit: http://www.electrospective.com
You may also check out Andy's favorite tracks on Spotify:
Comments