Orbital are back after 8 years – listen here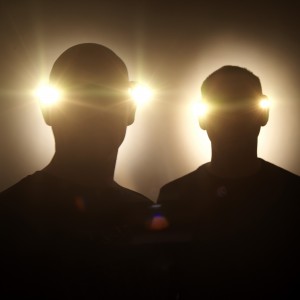 Eight years after the Blue Album (2004) the British dance duo Orbital are back. The brothers Hartnoll are planning an album titled Wonky with the release date April 1. The album was mixed by Flood, known for his collaborations with Depeche Mode and U2, and even Zola Jesus is involved. The first single is called "Never".
Contemporaries of the Chemical Brothers and Underworld, Orbital enjoyed a dazzling 15-year stint before bowing out gracefully in 2005. Raised in suburban Sevenoaks, near the M25 orbital motorway which inspired their name, Paul and Phil began honing their unique brand of homegrown electro long before the acid house boom gave British pop a much-needed kick up its baggy trousers. In their secret sound laboratory, these twin Timelords of techno produced gleaming machine-music classics that sounded like Blade Runner on a Grange Hill budget.
Between 1989 and 2004, Orbital released a string of addictive, eclectic singles including Chime, Style, Belfast, The Box and Satan. Many became evergreen club anthems. Some even became top three hits. During their seven-album career they also worked with an impressively diverse range of collaborators including electro-folk siren Alison Goldfrapp, soundtrack maestro Angelo Badalamenti and Metallica guitarist Kirk Hammet.
Meanwhile, Orbital developed an enviable live reputation, playing knockout mega-shows to huge crowds from Glastonbury and Woodstock, to the Royal Albert Hall. Their music featured on high-profile film scores including The Saint, Event Horizon and The Beach. They also remixed superstar artists including Madonna, Queen Latifah and their all-time robo-pop heroes Kraftwerk.
Since releasing their swansong Orbital opus The Blue Album and disbanding in 2004, both Hartnoll brothers have ventured into new musical territory. Paul took a more orchestral direction with his 2007 solo album The Ideal Condition, while Phil launched his short-lived collaboration project Long Range and carved a thriving career as a DJ. But they never closed the door on Orbital, and demand remains high for their fabled live shows.
"We've never said never," Paul explains. "It's something I suspected would happen, which is why we kept hold of certain key bits of odd equipment.
Iguess the time "never" has now come

Comments