Pulse Surface Controller System
For more information and purchase:
http://www.pulsecontroller.com
Pulse Surface Controller liberates computer-based musicians from conventional input devices of predetermined form factor and layout, allowing the user to turn a surface of various size, orientation and material into an expressive, flexible, reconfigurable MIDI controller.
The Pulse Controller is a hardware / software solution that liberates computer-based musicians and performers from conventional input devices by allowing a surface – i.e. desk, laptop, objects and more – to become a playable MIDI controller. An included piezo microphone coupled with a simple yet powerful software interface converts acoustic impulses into MIDI Note messages for playing your software instruments in an intuitive, responsive and connected manner.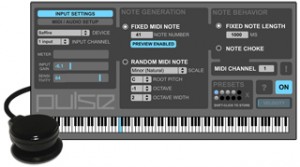 The idea behind Pulse Controller was born out of the belief that as computer-based musicians and performers we should not feel relegated to a grid of small 1×1″ pads or a keyboard to create our rhythms and provide pulse to our music. Controllers once intended to give us the immediacy of playing an instrument often end up feeling more disconnected and distracting. With the Pulse Surface Controller System, controlling percussive instruments has a more visceral, immediate quality, and via a powerful MIDI generator that generates notes in predefined musical scales the user can easily extend into the melodic domain to tap into an inspiring world of happy accidents. Power to the fingers!
System Features:
+ Piezo microphone and powerful software interface
+ Attaches to any surface via integrated suction cup
(velcro strips also provided)
+ Connects to external audio device or built-in audio inputs
(1/4″ and 1/8″)
+ Velocity-sensitive and highly responsive
+ Low-latency performance
+ Compatible with all software that accepts MIDI Note messages
(Cubase, Ableton Live, Pro Tools, VST/AU plug-ins, etc)
+ Generate fixed note or random notes in a selected scale,
with control of octave, octave width, root pitch and 21 Scales
+ Fixed note length and note choke modes
+ Store and recall presets
+ Keyboard shortcuts for quick access to presets and important controls
+ Mac OS 10.5, 10.6, 10.7 compatible
(Windows / Ableton Live users, please contact us about M4L version)
Comments