Q & A with Karl Bartos on the Mini Composer iPhone app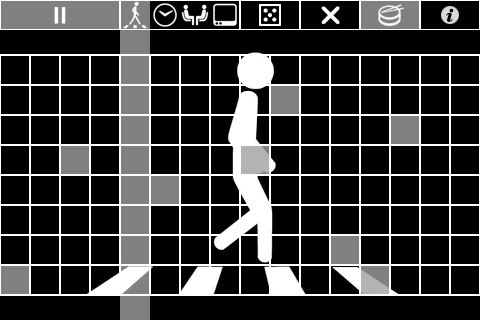 Composers make songs, artists make paintings and developers make games. So what is The Mini Composer? Is it Mr Bartos latest single released as an app? Or is it an yet another iPhone synth instrument? Thinking outside the box – it's something in between – it's a digital sonic experience.

What it offers is a 16 note polyphonic matrix sequencer, freely programmable and a preprogrammed beat. There are 4 presents that controls the synth sound (sine, square, saw & triangle) and slap back delay, sequencer tempo and a Kraftwerk inspired beat. Or more correctly a beat by Karl Bartos! All presented with some symbolic graphics that could be recognized as Bartos trade mark by now.
To find out more about the Mini Composer we asked Karl Bartos some questions:
Q: The Mini Composer seem to be a bit limited and constrained to be a full featured instrument, but then it's not just remixing your songs. To us it appears you found something in between – a sonic experience. Tell us about the thinking behind the Mini Composer!
Karl Bartos: Jean-Marc Lederman brought up the idea to make a contribution to the iPhone app playground and he took me by surprise when he already found the fantastic Professor Masayuki Akamatsu from Japan.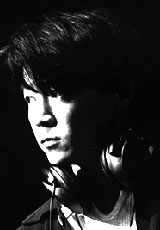 I was always fond of the rigid mathematical grace of the first drum machines and we combined the idea of the beat box with an old fashioned sequencer matrix plus the four basic soundwaves. No big deal, just a little idea made from us with fun and devotion for people to play with. We took the pictograms from my record "Communication" to bring in that corporated identity as well. So, in the end it was a collaboration in virtual space between the three of us living in Japan, Belgium and Germany. Finally when we were about to release it, the tragic disaster happened in Japan and we were happy to include that donation link. That made sense and gave it an additional meaning.
Q: What's your take on the developments of pocket calculator like devices turning into musical instruments like iPhones and Androids but also Gameboy and Korg Monotron. What are your favorite music related apps?
KB: I look at the programmers/artists like Masayuki with admiration – I would never be able to do that. Anyway, the devices used for production and reproduction of sound are getting smaller and smaller, don't you think? So, maybe in the end they are going to disappear completely?
Q: The beat sounds like from a vintage drum machine. It's not a Maestro Rhythm King or a Vox Percussion King is it?
KB: That's top secret! All I can say is that Jean-Marc and myself have edited the sounds together after years of research and at the cost of great privations 😮
The app is for free but you are encouraged to donate to Japans earthquake and tsunami relief. The request feel very natural as one of the creators is Masayuki Akamatsu from Japan and considering the theme of the first album Kraftwerk Mr Bartos contributed to (Radio Activity).
Here's a session where Karl jams on 4 iPhones: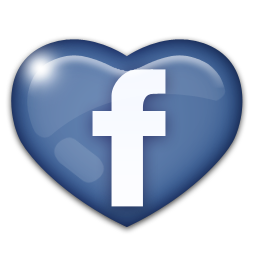 By the way, don´t forget to stop by our new Fanpage >>
Comments