Quick test of mini pyramid synth
This was commissioned by Jay Gambit, for use by noise collective Crowhurst.
It is a second generation pyramid synth in the style of the original designed by Pete Fowler, commissioned by XL Recordings for The Horrors. This unit contains a MFOS phaser and WSG.
More details here: www.nervoussquirrel.com/tronpyramid.html
Each synth contains a Sound Lab mark II, built from a circuit board sold by Music From Outer Space. This provides each synth with two very stable VCOs, a state variable VCF, two envelope generators, VCA, LFO, patchable sample and hold, white noise generator and an audio mixer.
There are plenty of switches and sockets for creative signal routing, and external inputs to process your microphone, guitar or electric ocarina. Control voltage inputs allow other synths and sequencers to control different parameters. Each pyramid also has a MFOS 8-stage phaser, built in speakers and 72 colour changing LEDs.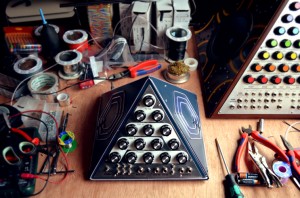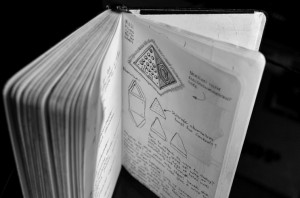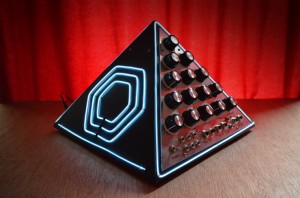 Comments