Quick tour around the new Swar Studio software
For all you Bollywood music makers out there I guess. This is a quick tour around the new Swar Studio software, the first sequencer aimed at both modern and traditional music from India.
Swar Studio is the first sequencer primarily aimed at music from India, whether modern or ancient. It includes both Indian and Western virtual instruments to allow you to create your favourite songs from the film or classical repertoire without the need of any additional tool.
With Swar Studio, you'll be able to reproduce your favorite Bollywood hits of the past or present days, and/or create your own personal songs for a fraction of the price of setting up an expensive home studio.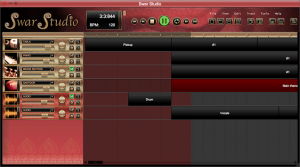 Fully featured, cost-effective DAW (Digital Audio Workstation)
Audio tracks for recording or dragging audio loops
Instrument tracks for recording from keyboard or  dragging MIDI loops
36 in-built virtual instruments*
Library panel with hundreds of included MIDI loops
VST and Audio Unit effects
Piano Roll editor for MIDI loops
Link to external tools
Quantization
Drag loops directly from SwarShala or Swar Librarian
Export to audio or MIDI files
Windows and Mac OS X
Free updates
Comments