Somewhat on the ethnic side of things

For all you Bollywood music makers out there I guess. This is a quick tour around the new Swar Studio software, the first sequencer aimed at both modern and traditional music from India.
Swar Studio is the first sequencer primarily aimed at music from India, whether modern or ancient. It includes both Indian and Western virtual instruments to allow you to create your favourite songs from the film or classical repertoire without the need of any additional tool.
With Swar Studio, you'll be able to reproduce your favorite Bollywood hits of the past or present days, and/or create your own personal songs for a fraction of the price of setting up an expensive home studio.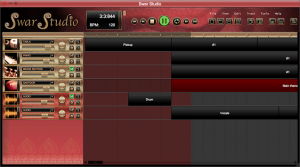 Fully featured, cost-effective DAW (Digital Audio Workstation)
Audio tracks for recording or dragging audio loops
Instrument tracks for recording from keyboard or  dragging MIDI loops
36 in-built virtual instruments*
Library panel with hundreds of included MIDI loops
VST and Audio Unit effects
Piano Roll editor for MIDI loops
Link to external tools
Quantization
Drag loops directly from SwarShala or Swar Librarian
Export to audio or MIDI files
Windows and Mac OS X
Free updates
The Loop Loft has introduced World Percussion Vol 1, a new ReFill created specifically for Reason 5.
Here's what The Loop Loft has to say about their new ReFill:
With pristinely recorded loops and samples (24-bit, 48 khz audio) ranging from West African udu drums and shakers, to North Indian frame drums, to Afro-Peruvian cajóns, the World Percussion collection provides an eclectic library of highly authentic sounds and grooves from all over the world.
Containing custom patches for The Dr Octo Rex player and Kong, this ReFill leverages the latest and greatest features found in Reason 5, putting the loops and samples at your fingertips in a way that was never before possible.  Watch the video below to see (and hear) what the World Percussion ReFill can add to your Reason library.
ReFill Specs:
102 REX2 Loops
14 Dr Octo Rex Patches
4 Kong Patches
High Quality, 24-bit 48 khz Audio
REX2 Sets included:
102_Groove_Cajon
140_SixEight_Cajon
107_Rumble_Framedrum
125_Simmer_Framedrum
132_Shaker
117_Hall_Udu
132_Intense_Udu
98_Hypnotic_Udu
Pricing and Availability
World Percussion Vol 1 is available now for US $29.
Link:
If yes this one's definitely for you….
Soniccouture have announce their latest product : Tingklik. Here's what they have to say about it…
A Tingklik is a bamboo percussion instrument from Bali. A Tingklik typically has 11 bamboo tubes, although the instrument we sampled has 12. The longest bamboo is about a metre long for the lowest pitch. With five notes per octave, the range is just over 2 octaves. The tubes are suspended using string over a brightly coloured wooden frame. The player sits on the ground and strikes the bamboo tubes with rubber-tipped mallets.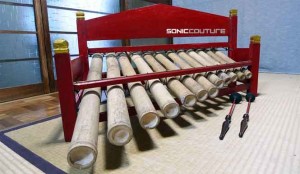 Because the Tingklik only has 12 notes, it is possible to sample it in great detail without it becoming too large in terms of sampler memory. Each note was sampled at 12 different velocity levels, with 6 alternate samples for each level, ensuring a very natural, living sound. The Kontakt and Ableton Live versions include tools for doubling the Tingklik to simulate the authentic paired playing found in Bali. Both the original tuning and a full chromatic western tuning are included in all formats.
Pricing and Availability:
Tingklik is available now as a Download, priced EUR 29 / USD 39
More information: