Are you into odd sounds and instruments?
If yes this one's definitely for you….
Soniccouture have announce their latest product : Tingklik. Here's what they have to say about it…
A Tingklik is a bamboo percussion instrument from Bali. A Tingklik typically has 11 bamboo tubes, although the instrument we sampled has 12. The longest bamboo is about a metre long for the lowest pitch. With five notes per octave, the range is just over 2 octaves. The tubes are suspended using string over a brightly coloured wooden frame. The player sits on the ground and strikes the bamboo tubes with rubber-tipped mallets.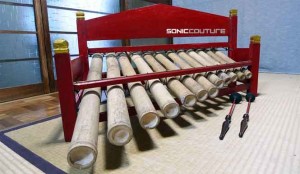 Because the Tingklik only has 12 notes, it is possible to sample it in great detail without it becoming too large in terms of sampler memory. Each note was sampled at 12 different velocity levels, with 6 alternate samples for each level, ensuring a very natural, living sound. The Kontakt and Ableton Live versions include tools for doubling the Tingklik to simulate the authentic paired playing found in Bali. Both the original tuning and a full chromatic western tuning are included in all formats.
Pricing and Availability:
Tingklik is available now as a Download, priced EUR 29 / USD 39
More information:
Comments