Sequoia 12 DAW for Broadcast, Mastering, Audio Post & Music Production
MAGIX, the German software developer who also created Samplitude, launched the new Sequoia 12 DAW this week.
Sequoia 12 significantly updates a strong player in the DAW sector. While Sequoia has long been known as a mastering, broadcast and audio post Digital Audio Workstation, it is also integral to the workflows of music producers, journalists, sound editors, and audio engineers of all stripes.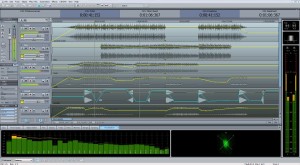 According to MAGIX, flexibility levels in Sequoia 12 has ramped up considerably, owing to significant updates for metering, support of all current broadcast standards and their new "docking" concept, which allows users to adjust the interface with simple drag & drop control. The Independence Sampler Workstation, with over 70 GB of content, has also been integrated into Sequoia 12 to accelerate music production.
Visitors to Musikmesse will be able to get a first look live and in person at Sequoia 12, which is shipping for 2500 Euro, or $3,297.75 at today's exchange rates. Owners of previous versions will be able to upgrade.
Here's how MAGIX describes the latest updates to their high-end DAW:   
"Whether in the recording or broadcast studio, at live concerts, or on location for a special live report, Sequoia 12 is the perfect tool for any situation that demands professional audio production. From recording to editing and on through to mastering and authoring, Sequoia 12 offers a seamless workflow that gets the job done better and faster. This comprehensive, high-definition DAW is now available from MAGIX for €2500.00 (taxes not included) and great deals on upgrades are available for owners of previous versions.
Visitors to the MAGIX stand (Hall 5.1, C79) can get a first look at Sequoia 12 at the Frankfurt Musikmesse from March 21 to March 24.
Cutting edge technology combined with seamless workflows: The new features in Sequoia 12
Time is of the essence when audio engineers are working on a broadcast or putting the finishing touches on a production in the mastering studio. Everything has to fit together perfectly and every step in the workflow is crucial to meeting tight deadlines. But there is also no room to cut corners and it is vitally important that the latest technology and standards are applied to ensure a professional production. The developers of Sequoia 12 kept all of this in mind while designing the new features and making the comprehensive improvements that make this version of Sequoia even more flexible and efficient than its predecessors.
Loudness Metering according to the EBU recommendation R 128 is an important part of the latest version which supports the transition from peak-based measurements to loudness-based measurements for radio and television. The meter's display has also been redesigned and offers various visualization layouts and presets for common broadcast standards.
Visitors to Musikmesse can get the first look at Sequoia 12.
The new docking concept allows the user to adjust the interface with simple drag & drop control. Whether for broadcasting, mastering or audio post-production, the layout can easily be rearranged for any type of workflow.
An important aspect of any efficient workflow is speed, and that is where the new macro functionality comes into play. Commonly recurring processes can be saved and activated quickly using shortcuts.
Another helpful feature is track-level spectral editing which can quickly deal with the noise interference that occurs during live recording or multitrack recording. And even more special features have been added for complex spectral editing projects such as audio restoration.
Another great time-saver is the new auto ducking feature which is particularly useful for radio and speech broadcasting where background music can be faded in and out automatically according to audio cues.
In modern broadcasting it is important to be able to edit in realtime. With Sequoia 12, recordings can be exported during the broadcast and can be saved in a database where everyone involved can access them and remain informed about the current status of the project.
The new VCA groups make daily studio routines more efficient. Productions are now even easier to mix and finalize directly in the DAW thanks to the grouping of tracks through virtual VCAs (Voltage Controlled Amplifiers).
Getting the most from the hard drive is also crucial for maximum efficiency and is now possible with full 64-bit support.
The integration of the Independence Sampler Workstation into Sequoia 12 is a welcome addition for anyone working on music productions. Over 70 GB of content and hundreds of instruments make this sampler the ultimate production package for the creation of professional musical compositions."
Comments