June 22, 2012 · Posted in
Uncategorized
·
Comments Off

on Pet Shop Boys – new album in September – listen to new track
Invisible: The new video by Pet Shop Boys. Video by Brian Bress. Invisible is taken from the new album Elysium to be released in September. Produced by Andrew Dawson and Pet Shop Boys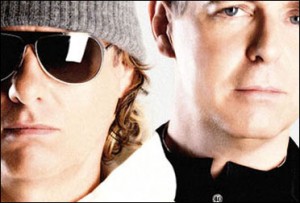 The band has announced a new studio album to be released in September. The new album, titled "Elysium" will be the band's 11th studio effort so far. The material has been recorded in Los Angeles together with producer Andrew Dawson.
Andrew Dawson is a Grammy-Award winning engineer and producer. He so far worked with Kanye West, Common, T.I., Jay-Z, Destiny's Child, Lil Wayne, Drake, Rick Ross, Erykah Badu and more. Not really the music you'd link with Pet Shop Boys.
http://www.petshopboys.co.uk
http://www.facebook.com/petshopboys
Music video by Pet Shop Boys performing Invisible. (P) 2012 The copyright in this audiovisual recording is owned by Pet Shop Boys Partnership Ltd under exclusive licence to EMI Records Ltd
November 15, 2010 · Posted in
Uncategorized
·
Comments Off

on New single to promote old stuff from old boys
"Together" is the title of the new Pet Shop Boys single, another collaboration with Xenomania. It's in 5/5 waltz beat, and is a catchy little number made to promote their new compilation "Ultimate", out since November 1. The single is out now in digital form and the physical release is on November 29.
The "Ultimate" special edition's DVD includes BBC TV performances and their concert from Glastonbury this year.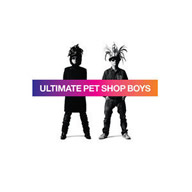 One can always debate the term "best of"

Pet Shop Boys are to release a 19-song best-of titled "Ultimate Pet Shop Boys". The best-of will also be available as a special edition with a bonus DVD of vintage BBC live performances. The new release will be preceded by the newly recorded single "Together". The new song, Together, was written and recorded this month with Tim Powell (ex-member of the Xenomania production team which wrote tracks for Cher, Kylie Minogue, Dannii Minogue, Pet Shop Boys, and Sugababes). The track will be issued as a single, but no release date has been announced.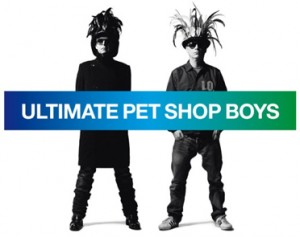 The DVD in the special edition will hold 27 live performances taken from various BBC programs including of course "Top of the Pops". The DVD will furthermore also include the Pet Shop Boys' full performance opf their last June set at the Glastonbury festival.
Tracklist:
CD:
01. West End Girls
02. Suburbia
03. It's a Sin
04. What Have I Done to Deserve This?
05. Always On My Mind
06. Heart
07. Domino Dancing
08. Left To My Own Devices
09. Being Boring
10. Where the Streets Have No Name (I Can't Take My Eyes Off You)
11. Go West
12. Before
13. Se a Vida e (That's the Way Life Is)
14. New York City Boy
15. Home and Dry
16. Miracles
17. I'm With Stupid
18. Love Etc.
19. Together

DVD:
01. West End Girls (Top Of The Pops, 12/15/85)
02. Love Comes Quickly (Top Of The Pops, 3/20/86)
03. Opportunities (Let's Make Lots of Money) (Whistle Test, 4/29/86)
04. Suburbia (Top Of The Pops, 10/2/86)
05. It's a Sin (Top Of The Pops, 6/25/87)
06. Rent (Top Of The Pops, 10/22/87)
07. Always On My Mind (Top Of The Pops, 12/10/87)
08. What Have I Done to Deserve This? (Brits Awards, 2/8/88)
09. Heart (Wogan, 3/30/88)
10. Domino Dancing (Top Of The Pops, 9/22/88)
11. Left To My Own Devices (Top Of The Pops, 12/1/88)
12. So Hard (Wogan, 9/28/90)
13. Being Boring (Top Of The Pops, 11/29/90)
14. Can You Forgive Her? (Top Of The Pops, 6/10/93)
15. Liberation (Top Of The Pops, 4/7/94)
16. Paninaro '95? (Top Of The Pops, 8/3/95)
17. Se a Vida e (Top Of The Pops 2, (12/2/03)
18. A Red Letter Day (Top Of The Pops, 3/28/97)
19. Somewhere (Top Of The Pops, 7/4/97)
20. I Don't Know What You Want But I Can't Give It Any More (Top Of The Pops, 7/30/99)
21. New York City Boy (Top Of The Pops, 10/8/99)
22. You Only Tell Me You Love Me When You're Drunk (Top Of The Pops, 1/14/00)
23. Home and Dry (Top Of The Pops, 3/29/02)
24. I Get Along (Top Of The Pops 2, 4/17/02)
25. Miracles (Top Of The Pops, 11/14/03)
26. Flamboyant (Top Of The Pops, 3/19/04)
27. I'm With Stupid (Top Of The Pops, 4/23/06)