TC Electronic Launches LM2 Radar Loudness Meter Plug-in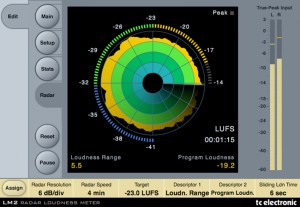 The LM2 Radar Loudness Meter is TC Electronic's new native plug-in that measures True-Peak and Loudness on stereo tracks in all major DAWs, including Pro Tools.
A dedicated stereo plug-in supporting all major plug-in formats, the new LM2 plug-in features TC's Radar Display which provides an instant loudness overview, including loudness history, momentary loudness and true-peak metering in a single view.
According to TC, "Whether you are broadcasting for radio and TV, mastering films or involved in Post Production, you'll find that LM2 is ready to support your work like no other meter."
The LM2 is reportedly fully compliant with all broadcast standards and will be continuously updated as new standards evolve. Current applications include:
Broadcast (North America, South America, Europe, China and Japan)
Commercials and Jingles (North America, South America, Europe, China and Japan)
iTunes Criteria
Game Production Criteria
Delivery for iDevices
Web Audio Delivery
CD Mastering
Click for a full list of features. The LM2 plug-in is priced at $199, but has a special introductory price of $99 until June 30, 2012. Click to try the free 14-day demo or purchase.
In March 2012, TC launched the LM6 Radar Loudness Meter plug-in ($599) which provides support for 5.1 surround and includes a log file feature that allows the plug-in to create a text-based log-file stored on the users hard drive or network. Click for more details on the LM6.
Comments