Teaser of U-he's new DIVA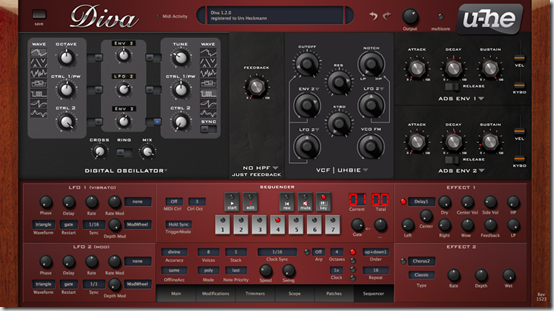 Here's what they have to say about it:
New Diva modules arriving in June: Digital Osc, Uhbie-Filter and Arpeggiator/Sequencer. Here's a preliminary screenshot
It's got two oscillators. Each with 8 waveforms. Each waveforms has two "Control" parameters that can be modulated.
Most notably:
– TriangleMod: Does a foldback-distorted triangle wave combined with a symmetry-warp function
– SuperSaw: Does a sawtooth with 6 additional sawtooth mixed in, ad variable detune
– Feedback: Does a sawtooth with distorted feedback at variable (tuned) delay and gain
– Noise: Does noise with adjustable bandpass filtering and cutoff
– PWM: Does PWM with an invented-by-u-he pseudo-resonance control
– plus another sawtooth and triangle waveform
Both oscillators can interact by Ringmodulation, Sync and Crossmodulation.
Comments