Teenage Engineering OpLab Preview
The Oplab Musical Experimental Board allows you to interconnect virtually any electronic musical instruments. And finally it's just plug and play. No more hassle with one box for MIDI and another for CV or a third for USB. Oplab has it all in one place. Just connect your cables, set the appropriate scenario and experience a perfect sync. You could use a mouse to bend pitch, or use an old hard drive as a scratch pad. You can even turn your own body into a musical instrument (great if you are in the business of interpretive dance or you're a stripogram) by wearing the TS-1 sneaker. A sensor attached to the show will trigger when you stomp your foot to the ground, and could trigger a kick drum or any other sample.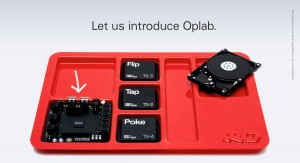 For all of these nifty little ideas, check out the OpLab page on Teenage Engineering's website.
Comments