Time again for some playtime on the Buchla Easel
Todd Barton plays the Buchla Easel
"using the keyboard's arpeggiator to drive the on board Sequential Voltage Source — some fun little patterns and timbres. . ."
"just another "getting my ya-yas" out and havin' fun. enjoy!"
About the Buchla Easel:
The Music Easel is a highly evolved electronic musical instrument. It maintains many of the design philosophies and functional characteristics of its predecessors, the 100 series Modular Electronic Music System and the 200 series Electric Music Box. The Music Easel introduces some substantial innovations in electronic instrument design – innovations that make it a truly expressive real-time instrument for composition and performance.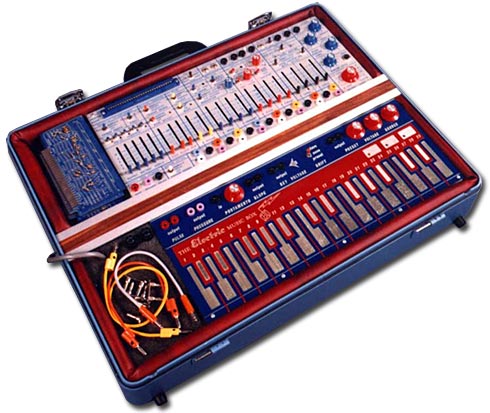 The Music Easel contains many of the elements commonly used to generate and process sound: a keyboard, sequencer, pulser, preamplifier, envelope detector and balanced modulator; oscillators, gates, envelope generators and filters; facilities for mixing, monitoring and reverberating. Many of these elements possess an unusual degree of sophistication. The keyboard is solid state, with touch sensitive, chromatically organized keys, accurate and reproducible pressure output, tactile feedback, octave shifting, and voltage controlled portamento. A complex oscillator, developed through computer aided simulation studies, is a rich source of complex audio spectra. featuring voltage control of pitch, timbre and waveform, this oscillator provides the Music Easel with a timbral range unapproached by other musical instruments.
The connectives are as important as the elements to be connected. Interconnection within the Music Easel is accomplished with a combination of switching and patching, a system which is flexible, expedient, and open ended. Logical, compact organization and color coded graphic feedback facilitate rapid and effective interaction. Multiple correlations between a performer's actions and the Music Easel's responses are readily implemented, enabling a degree of expressive articulation heretofore impossible with electronic instrumentation.
Further augmenting the Music Easel's real time performability is the capability of permanently storing and immediately retrieving complete instrument definitions (patches) or portions thereof. (An "instrument definition" includes settings of parameters, degrees of articulation, switch positions and interconnections.) Storage entails the installment of resistors on program cards; retrieval is accomplished by plugging in a desired program card and activating a switch.
With its extended timbral resources, unusual expressive capability, and its facility for storage and recall of instrument definitions, the Music Easel opens new horizons to the composer and performer. To appreciate its potential as a new musical instrument the Music Easel must be seen, heard and played.
Comments