Tiny modular system from KORG and littleBits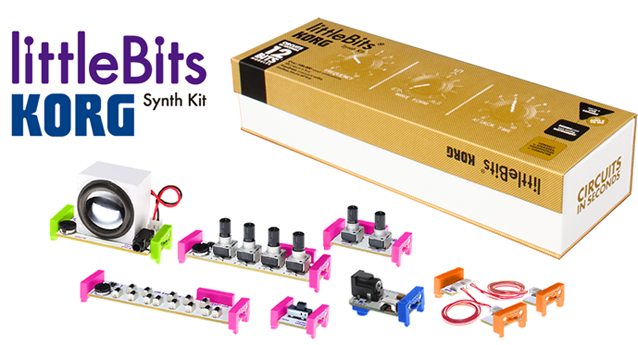 Korg has teamed up with the littleBits and created a kind of modular system set with which you could create a modular synth/instrument. With the original littleBits Exploration Kit Series anyone and everyone can use the modules to create circuits and explore the world of electronics.
The littleBits Synth Kit is a scalable and easily customizable modular synthesizer system for anyone who's interested in building their own little 'analog' system. Without knowledge of music or electronic circuit design, you now can easily assembly a synthesizer.
The whole system is really based on the littleBits Exploration Kit, however the intention is that it will and can be used for live sound and recording. The Synth Kit will be available in Japan first. If this kit will be available worldwide is not been confirmed.
The synth kit offers a variety of modules:
Power
Oscillator
Random
Keyboard
Micro Sequencer
Envelope
Filter (MS-20 style)
Delay
Mix
Split
Speaker
For now the littleBits Korg Synth Kit is expected to be released in Japan in December 2013. Pricing is expected to be around the price of ¥ 16,000. No official announcement has been released however.
Comments