U-he is gearing up for MusikMesse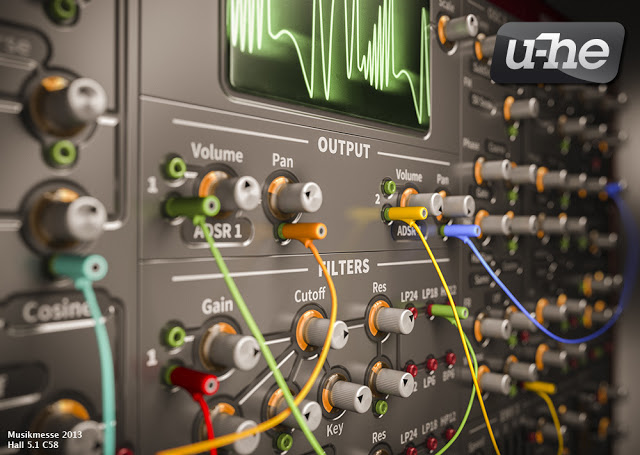 U-He has announced that it will be making several introductions at the upcoming Musikmesse 2013.
– we'll showcase Bazille 1.0 (to be released in June/July)
– we'll showcase Satin (tape machine emulation, due in May)
– we might showcase Presswerk, a massive compressor (ui pending)
– we'll have a Digital oscillator module for Diva
– we'll have a new "Uhbie" filter module for Diva and ZebraHZ
– we'll have a sequencer/arpeggiator combo for Diva (all coming in June)
– we'll have Caffè corretto to pick you up
And also, wish us luck for Diva's second nomination for the MIPA award. It took Zebra twice to get it, so we're in good spirits.
Some notes from Urs in response to comments:
"Well, hehe, it won't look as 3D as the render of course.
But the new layout with those "channels" that show the signal flow within each module has become really great.
I'd post a screenshot, but alas… I'm still working on some shading algorithms (the gui currently gets rendered on the fly when the editor is opened or resized, not sure if we can keep that up because it takes 2-3 seconds)"
On the new digital oscillator for Diva:
"It's got two oscillators. Each with 8 waveforms. Each waveforms has two "Control" parameters that can be modulated.
Most notably:
– TriangleMod: Does a foldback-distorted triangle wave combined with a symmetry-warp function
– SuperSaw: Does a sawtooth with 6 additional sawtooth mixed in, ad variable detune
– Feedback: Does a sawtooth with distorted feedback at variable (tuned) delay and gain
– Noise: Does noise with adjustable bandpass filtering and cutoff
– PWM: Does PWM with an invented-by-u-he pseudo-resonance control
– plus another sawtooth and triangle waveform
Both oscillators can interact by Ringmodulation, Sync and Crossmodulation.
I guess you'll all easily guess where this is coming from"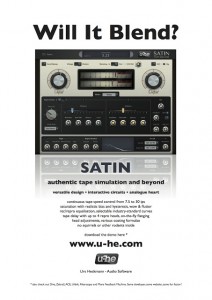 Satin:
"I'll be sitting down with Sascha today to prepare the final touches of the user interface. Maybe we can have a more or less accurate screenshot then.
Basically… Satin is not just a tape emulation. I'm thinking of it as "all of tape"
Without being modelled after specific gear like Diva, Satin still has a mix and match approach. There are various pre-equalisation and post-equalisation curves to choose from as well as various noise reduction techniques and a choice of tape speed, plus a few head/gain adjustments. The sound of tape ranges from subtle to drastic. The adjustable noise level is irresistable
On top of that we've added a choice of typical tape applications:
as a tape emulation it can glue a mix, and there's easy control for up to 8 groups of Satins that share the same settings
as a sound design tool it crunches, compresses, expands, "makes 3D"
in delay mode it does for a bloody damn fine tape delay (2 or 4 heads)
in flanger mode it lets you "fly in" flanging just like in the olden days
as a restauration tool it can "repair" recordings that were made with one machine and digitised from another
In tradition of u-he, Satin is to tape what MFM2 is to delay or what Filterscape is to equalisation. The CPU usage is on par with other tape emulations we've tried. While it doesn't sound exactly like any specific machine, we're confident that Satin behaves very much like those machines would.
Comments