Up for a challenge? How about remixing Howard Jones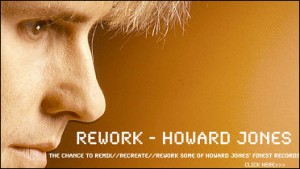 Howard Jones has started the 'ReWork Howard Jones' project. The ReWork project will give music producers, both rising stars and old hands alike, the chance to remix / recreate / ReWork some of Howard Jones' finest records. The project launches on April 18th with the release of remix parts for "Automaton", a track taken from his 1985 platinum selling album, "Dream Into Action". Beyond April 18th, Howard and the team will continue to release sets of remix parts for a number of past classics; tracks picked from a music repertoire spanning in-excess of 25 years.
Interested parties 'need not toil in vein'. Whilst the motivation of remixing an original synth-pop icon might be enough for many, Jones and the team will be paying special attention to the contributors that attract both their ear and the attention of the community peers. With copyrights returned and a burgeoning list of A-list studio hacks interested in reworking Howard, a new album concept has been born; details of which will be announced soon. What can be confirmed is that the overall 'winner(s)' will become part of said album concept.
If you are interested in getting involved, all ReWork Howard Jones news, announcements updates, and communications, including the release of new audio parts, can be discovered via the offical blog and content hub, www.reworkhowardjones.info , first.
Comments