"Via Marconi" – '80s Italo with Memorymoog
The Memorymoog was the last official synth, made back in 1982, to come from Moog before they eventually went bankrupt and out of business. As a result, it was never fully completed; as MIDI technology was just coming out, the Memorymoog never did get to fully implement MIDI capability. There were two versions of this synth: the Memorymoog and the Memorymoog Plus (the version can be determined via the Autotune feature). The Plus model added a basic MIDI implementation, a Sequencer, and it also had more stable oscillator control, making the Plus model more valuable to collectors than the standard model.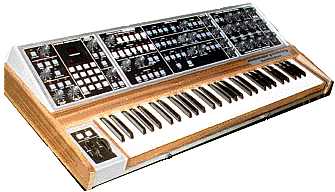 Due to the seemingly incomplete MIDI implementation as well as a less than perfect user-interface/operating system, some popular upgrades and retrofits have been produced and these days it is very common to find Memorymoogs with these retrofits. The most valuable upgrade is the Lintronics Advanced Memorymoog (LAMM), originally designed for the standard model, but also available for the Plus model. It provides a redesigned operating system, advanced MIDI functions and improved hardware components. Kenton Electronics produces MIDI retrofits for both the standard and Plus Memorymoog models (Kenton and Lintronics can even install these upgrades for you, considering the delicate nature and value of the Memorymoog). These upgrades can substantially increase the stability, MIDI functionality and value of the Memorymoog.
Background video description:
From my (eventually) upcoming Italo Dance / '80s Synth Pop album. This song is entirely made with a Memorymoog (all parts except the Simmons drums, of course).
Comments