Watch the live broadcast of Jean Michel Jarre's concert in Monaco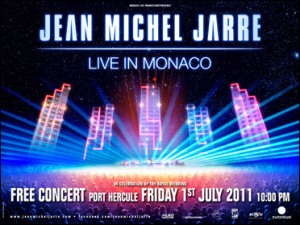 On July 1st at 22:00 CET the French, Lyon based, Television station will broadcast the Monaco concert by Jean Michel Jarre live via TV, computer, cell phone, iPhone or iPad. Note that for the iOS users, you need to get the Euronews LIVE applications which are available from the AppStore for iPhone and iPad (get them right here).
Especially for the 2 hour show Jean Michel Jarre has designed a special light show which he will perform on a 200-metre-long stage (attendees will need binoculars). The show – filmed by 18 HD cameras – will include HD video effects, lasers and pyrotechnics.
The concert will be covered in a worldwide exclusive live broadcast on the international news channel and via Ustream.tv on euronews.net; The event is part of the exceptional coverage of the royal wedding week in Monaco of Prince Albert II of Monaco to Miss Charlene Wittstock on Saturday, 2 July.
Comments